FALL LETTERING PRACTICE PACK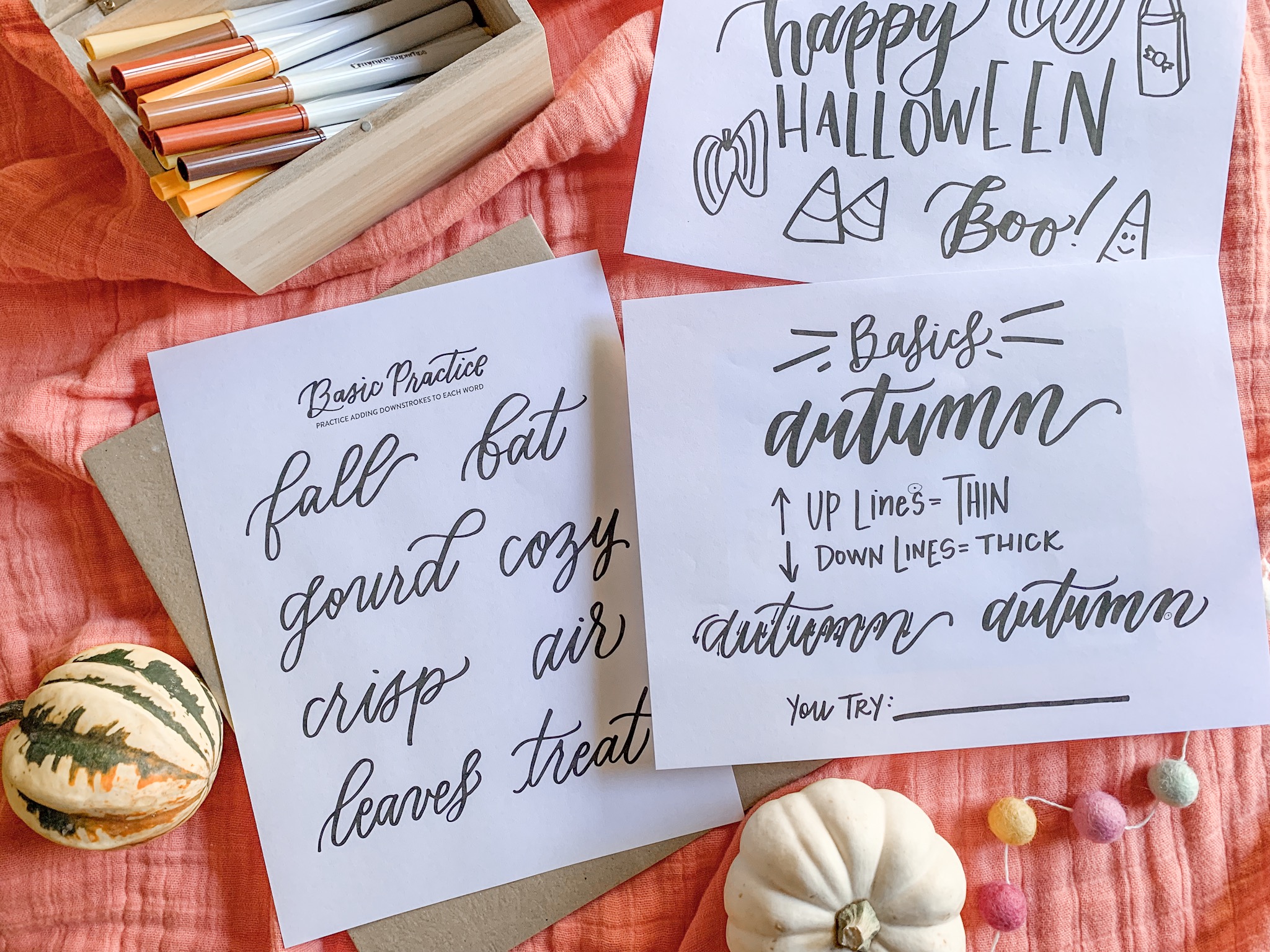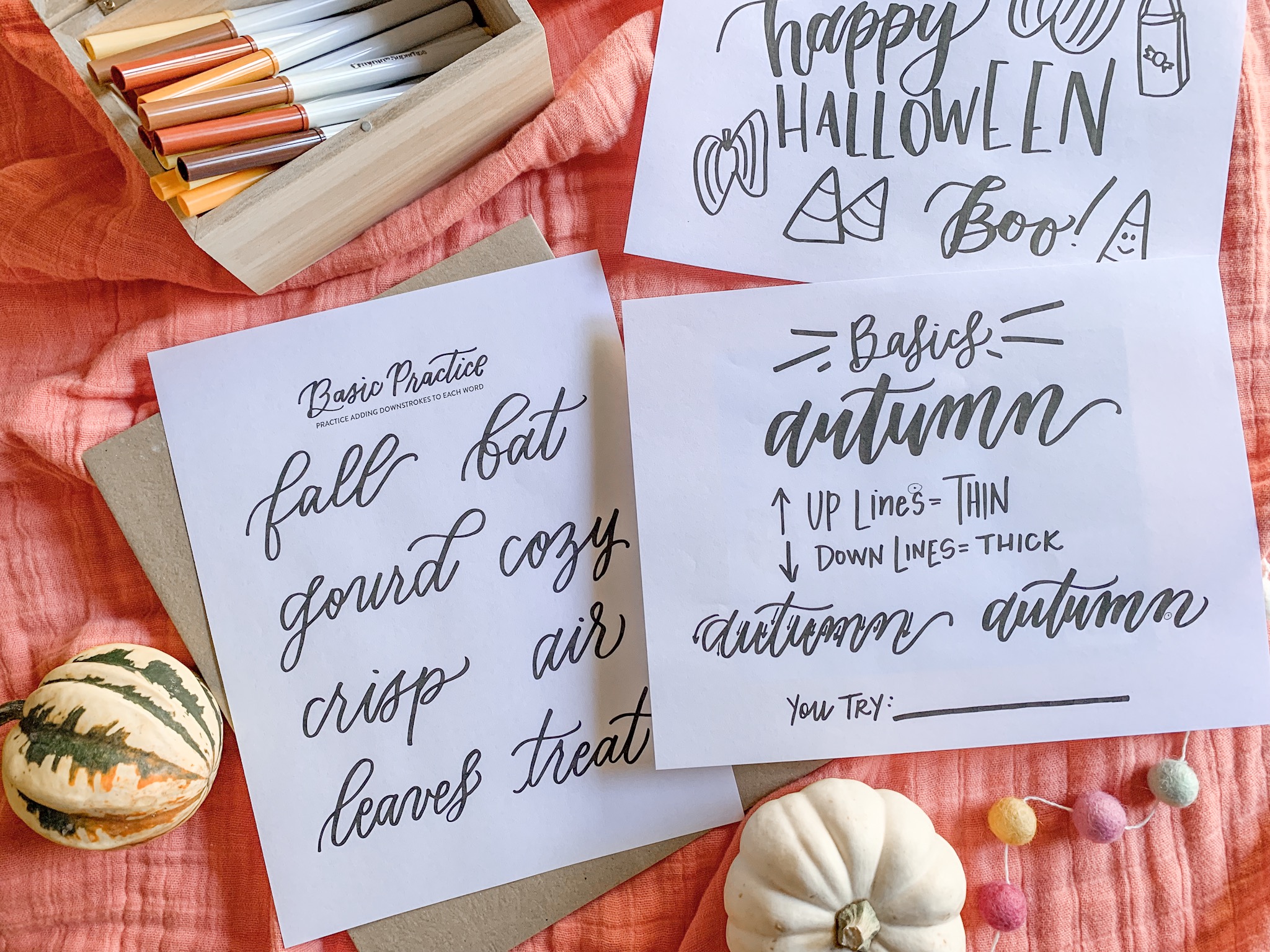 FALL LETTERING PRACTICE PACK
It's time for everyone's favorite season: FALL! This 26-page printable packet provides a fun and easy overview of the basics of hand lettering and offers a variety of seasonally-inspired word and composition practice opportunities.
These sheets are intended for all ages. They are not only simple and straightforward for adults, but also appropriate for kiddos. Handwriting practice is a relaxing creative outlet for all ages, but it's developmentally rich for little people. It provides practice in the areas of visual discernment, focus & attention, pen control, fine motor skills, etc. Most of all, it's FUN.
Best of all, this is a no-fuss practice packet! To get started, you won't need anything extra fancy. At minimum, all you need is access to a printer at home or work (or email to an office supply store to print for you!). You'll need paper and markers, and to extend the practice, you can add in sheet protectors/dry erase markers and tracing paper. You absolutely CAN use these practice sheets on your iPad; please see the note below with my easiest set of instructions.
This downloadable set contains a digital PDF packet only in printer-friendly black ink. From here, save to your computer and print as many times as you'd like! Layer over the sheets with tracing paper, stick the guide in a sheet protector and use with a dry erase marker…there are so many ways to make these sheets earth-friendly. And when your kiddo needs a break from lettering, you have three coloring pages in the back of the packet!
All sheets are black and white to make printing a breeze. You receive 26 pages including the cover. The practice pack includes simple handwriting, several alphabets, shading, cursive, doodling—a little bit of everything! You receive a variety of seasonal compositions as well.
NOTE: Your download link will expire 24 hours after you receive it. Please download the PDF and save it to your computer so you don't lose access! xo
NOTE 2: Yes, it IS possible to use these practice pages on an iPad with the Apple Pencil. Please note that you need to have an Apple Pencil-compatible iPad. I use Procreate app, but you can also use other drawing apps as well. Adobe Sketch is another option! To practice on my iPad, I followed these steps:
Download PDF to computer after purchase and use AirDrop to share with my iPad (there are other ways of getting the PDF on your iPad but this is the easy way that worked for me!)

Save the PDF to the iPad (location not super important!)

Open the PDF on the iPad and screenshot any full page once you're in PDF viewer mode. Google instructions for how to screenshot on your iPad if needed!

Saving a page as a screenshot will save the image to your camera roll. Once in ProCreate, click "Photo" in the top right home library menu and open the intended page from your camera roll. Super easy!

Does this not work for you? Google "How to open PDF on iPad" for more ideas!
NOTE 3: If you purchased the summer pack, please note that there are 3-4 basic alphabet sets that are repeated in this pack in order to catch everyone up to speed on the very basics. I have accounted for this by adding an additional EIGHT pages to the packet—so I've only added value in doing so. I've added some new alphabets and new cursive practice drills, so have fun!